Coffee & Crime with Rebecca Tope in Stow-on-the-Wold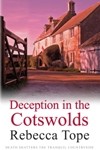 Sunday 3 June, 2.30 – 3.30pm    HUFFKIN'S TEA ROOMS, Stow-on-the-Wold
Come and meet Rebecca Tope, author of the bestselling Cotswold mystery series including the latest releases Malice in the Cotswolds and Deception in the Cotswolds. She wil be talking about her writing and signing copies of her books at Huffkin's Tea Rooms, The Square, Stow-on-the-Wold, GL54 1AB. The event is supported by the Borzoi Bookshop and you can ring them for more information on 01451 830268.