Who do you think would make a good Ethan Gage?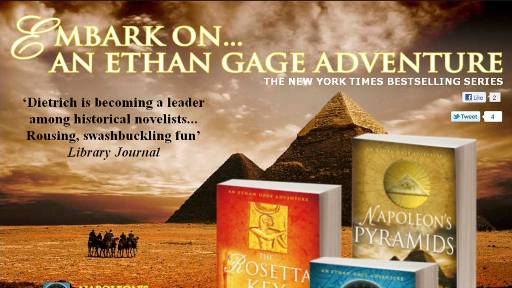 Today we have launched the new Ethan Gage website! (I'll leave you a few moments to go check it out…)
Done? You like? Did you enter the competition to win a copy of Napoleon's Pyramids?
I was definitely in pre-launch mode this weekend, with Ethan Gage and historical myths and adventure on my mind. And therefore unsuprisingly picked out National Treasure 2 at my local video store for a lazy Sunday evening movie. The National Treasure films may not be Oscar-winning stuff, but they are great entertainment – and I later began to lament the distinct lack of entertaining historically-themed adventures such as these amongst today's Hollywood blockbusters. And I can't keep rewatching Indiana Jones movies – I can practically recite indiana Jones and the Last Crusade.
So, I'm happy to be able to get my fix with William Dietrich's series which I do find very filmic. And it did have me thinking who I would cast in the role of Ethan Gage.  My Favourite Books blogger, Liz, tweeted the launch of the Ethan Gage site with an accidental typo, Cage instead of Gage. But was that her brain subconsciously placing Nicholas Cage in the role? We know he could have pulled it off, but obviously the National Treasure films already lapped him up as hero. So, who else?
Liz has guest-posted a review of Napoleon's Pyramids on the MovieBrits blog (as well as the sister book blog For Winter Nights) so I'm hoping you A&B followers and those film buffs might be able to offer up some potential candidates. (Hmm, maybe I'll start a poll.) You never know, from books to websites to… this could well be the start of seeing Ethan Gage on the silver screen.
Chiara Priorelli, Publicity & Online Marketing Manager