What will Kate and Will do for us?
So, roughly a month to go until Kate and Will's big day, a.k.a. THE DAY THAT LONDON STOOD STILL™ and for lack of anything else to write about, journalists around the country are unpicking every teeny-weeny detail that is available about the nuptials. For instance, Kate has commissioned three wedding dresses to throw people off the scent. Will has requested a chocolate biscuit cake from McVities for the reception. And finally, the corgis will join the couple for the carriage journey between Westminster Abbey and Buckingham Palace. OK so I made up that last factoid, but you get the idea.
Of course, if you're a better class of journo, you are giving the weighty matters of frocks and such like a miss and instead pondering how relevant the royals still are or what impact they will truly have upon the wider world. Will the royal couple be good for the arts? See here for the BBC Arts editor Will Gompertz's thoughts on that head. Can Kate single-handedly drive an economic recovery through her boost to the fashion industry? Views on that question here.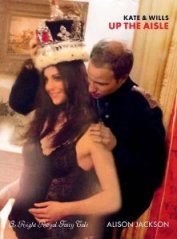 While strolling through the corridors of LBF I came upon a display of Quadrille's rather lovely books and, having heard an interview with Alison Jackson, I dived upon a copy of Kate and Wills Up the Aisle. The very clever reportage shots provided me with an answer to the question, 'what will K&W do for me?', because as long at K&W amuse me I'll be content.
Lesley-Anne Crooks, Sales & Digital Manager