Wednesday Cover Story: The Mary Russell Colour Competition
For those of you anxiously awaiting the next instalment in Laurie R King's hugely successful Mary Russell & Sherlock Holmes series, you won't have to wait much longer.  Garment of  Shadows will be out in October with the most suspenseful of plots yet… for Sherlock Holmes finds himself searching for his wife who has mysteriously disappeared in Morocco, as Russell wakes up in a strange bed with blood on her hands to find she does not remember who she is…  But look at me already getting caught up in the brilliant premise – I digress.
We've been complimented by many on our cover design for the series (thanks again to all who voiced their prasie, it's nice to feel appreciated) which feature colourful borders framing each image.
And now we've picked the colour for the border of Garment of Shadows…
To get in with a chance to win a copy of the upcoming hardback – can you guess the colour we've chosen? Click HERE  to submit your answer by midnight 14 August, and we'll reveal the cover (and colour) as our Wednesday Cover Story on the 15th August.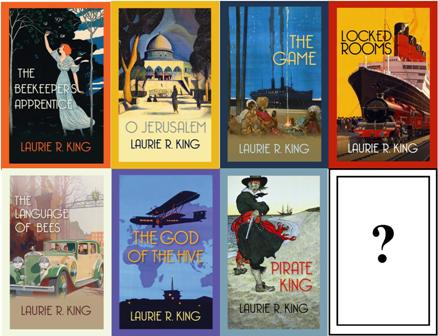 Get guessing!
Chiara Priorelli, Publicity & Online Marketing Manager