Wednesday Cover Story: The Flavour Thesaurus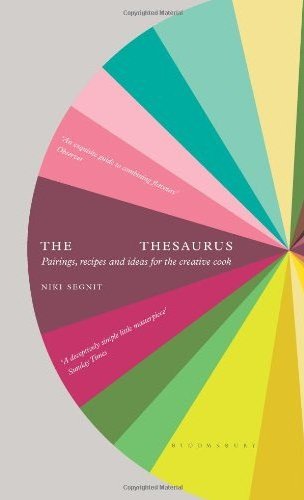 The Flavour Thesaurus was one of the many books that featured as gifts under our Christmas tree this year (and considering every Waterstone's I ventured into a few days before Christmas were out of stock – "it's been very popular" – it probably featured under many others). This isn't suprising considering it is an ingenious book – a cookbook with a difference – enlightening the reader on what foods (flavours) compliment others. So, rather than the usual cookbook that provides pages of recipes without giving the cook a real sense of why they taste good, here is a book that provides the tools to understand what adds that flair to a dish so you can experiment with your own recipes.
It is indeed an ideal reference book for cooks, but what probably made it a truly perfect gift book was the packaging. A beautiful hardback with a textured cover, a lovely and sophisticated use of colour with the simple wheel of flavours, an understated but appropriate layout and font for the title (you can't see it on screen but the word flavour is silver foiled).  It is a very elegant cover – one that invites you to want to keep it on the shelf next to your Oxford English Dictionary. I love it.
Chiara Priorelli, Publicity & Online Marketing Manager
Want to flag up a cover you love or hate for our Wednesday Cover Story? Write to chiara@allisonandbusby.com with your thoughts