Wednesday Cover Story: The ever-changing face of the paperback
There was a very interesting programme on book cover design on BBC4 earlier this week – part of the series The Beauty of Books. This particular episode, entitled Paperback Writer, examines how the paperback format 'democratized reading in the 20th century' and how cover design became an essential tool for selling books to the mass market.
It looks at the various designs for the 15 Penguin covers of George Orwell's Nineteen Eighty-Four, from the classic 1950s covers to the latest design from Jon Gray (pictured left), and how their different looks reflect the changing trends of the time. It also talks about Anthony Burgess' A Clockwork Orange and how the 'cog eye' has become an iconic image since its first appearance on the paperback cover in 1972 (pictured right).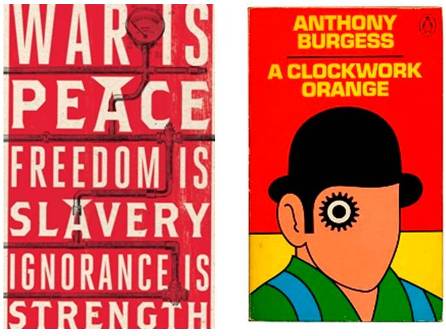 You can watch Paperback Writer on iplayer here or read a brief summary of the episode on the Creative Review Blog here.
Chiara Priorelli, Publicity & Online Marketing Manager