An evening with Ayckbourn
I was about fifteen the last time I came across an Alan Ayckbourn play. GCSE Drama had many highlights (playing with sound effect tapes, silly drama games, a trip to see Saturday Night Fever with afro wigs all stand out in my memory) but I did thoroughly enjoy a performance we did from Ayckbourn's Confusions – Gosforth's Fete – which descended into farce with yours truly playing it up as Councillor Mrs Pearce. Teenage acting can be frightening/frightful at the best of times but this must have been one to go down in the annals as particularly freakish because, if I remember rightly, Mrs Pearce gets electrocuted in the final scene.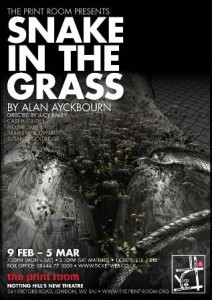 Now, take a breath to get over that image and I'll move along to my second run-in with Mr Ayckbourn. Last week a few friends and I went to see Snake in the Grass, currently playing at The Print Room in Notting Hill, with our supremely talented author Susan Wooldridge taking the role of Annabel. This is considered one of Ayckbourn's 'ghost plays' and while there were moments of humour, the claustrophobic set (an abandoned tennis court with the audience right in the thick of it), the menacing 'hauntings' and the increasing tension between the characters meant it became a very dark comedy by the conclusion.  The run has been extended by popular demand for another week, so you still have until 12th March to check it out. And if you wish to experience more of Susan Wooldridge's talent, her novel The Hidden Dance is, of course, available now too.
Lesley Crooks, Sales and Digital Manager