Wednesday Cover Story: Six decades of Casino Royale covers
This month marks 60 years since Ian Fleming published Casino Royale – the first James Bond novel. One of his biggest fans, Mike VanBlaricum (whose fabulous last name could be used for a Bond-villan character) has contributed to a new exhibition in Illinois, The Birth of Bond: Casino Royale at 60, showcasing how the book cover designs for Casino Royale have changed across  six decades. The Guardian has posted a gallery of the covers here.
And perhaps we should add the latest from Vintage below…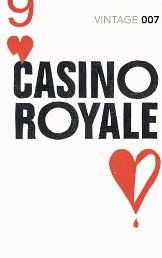 Which cover from the gallery is your favourite? And which would feature at the bottom of your list?
(And speaking of changing cover design – we'll be revamping our Pinterest Board and be including some of our changing cover designs very soon. Watch this space!)
Chiara Priorelli, Publicity & Online Marketing Manager