Catch The Beekeeper's Apprentice on Radio 4 Extra…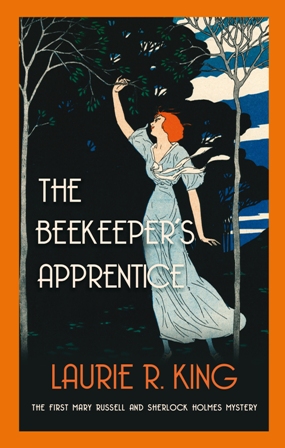 Tomorrow, Friday 19th April, BBC Radio 4 Extra will be broadcasting the first episode in a four-part dramatisation of  The Beekeeper's Apprentice, by Laurie R King – the first book in her acclaimed Mary Russell and Sherlock Holmes series.
When the young Mary Russell literally stumbles across Holmes on the Sussex Downs, it marks the beginning of an unexpected yet fitting partnership. This woman matches Holmes both in intellect and wit and together they find themselves sharing a great many adventures, facing terrible dangers, cunning adversaries and complex mysteries.
Holmes is played by James Fox, Watson by Shaun Prendergast and Mary Russell is played by Monica Dolan (who won a BAFTA for Best Supporting Actress in 2011 for her portrayal of Rosemary West in the award-winning TV series Appropriate Adult.)
You can catch the first episode tomorrow at the following times: 6.30am, 1.30pm, 8.30pm and 1.30am,  and the next episodes will be broadcasted on Monday 22nd , Tuesday 23rd and Wednesday 24th April (at the same times).
If you're a fan of the series, let us know what you think of the dramatisation. And if you had been in charge of casting…who would you have chosen to play each part?
Chiara Priorelli, Publicity & Online Marketing Manager