Wednesday Cover Story: Great things come in pairs
Great things really do come in pairs, like the new Laurie R. King covers for A Monstrous Regiment of Women and A Letter of Mary.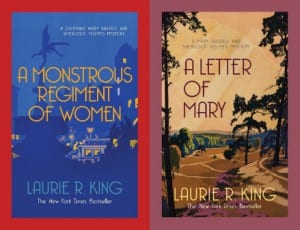 With one in print and the other now on the way, these beauties would look great on any bookshelf. I'm not normally one for pink covers but I think A Letter of Mary is my favourite. I love how the colour of the border matches the shades of pink in the landscape. Plus something about the colours just reminds me of summer. I can imagine laying on a beach somewhere hot reading about Mary Russell's and Sherlock Holmes' latest adventures.
Which cover do you prefer? Do you have a favourite cover from the full series?
Sophie Robinson, Editorial Administrator