Wednesday Cover Story: Garment of Shadows cover revealed! (And the winner is…)
Two weeks ago we asked you to guess the colour of the border on the cover to the upcoming Mary Russell & Sherlock Holmes book Garment of Shadows, by Laurie R King – to get in with a chance of winning a copy of the book.
Since then we've been inundated with a diverse range of guesses including "brown", "black", "grey", "orange", "indigo" and "burgundy"; quite a few "red"s (sorry, already used for Locked Rooms); various shades of yellow including "gold", "saffron" and "amber" and some brilliant suggestions involving very specific shades including "midnight blue",  "a lovely dusky lavender", "royal purple" and (my personal favourite) "dusty pink".  I'll be passing all these marvellous proposals to our Art Editor, Christina, and you may well see your vision on the next Mary Russell cover!
So, without much further ado, here is the actual cover for the new hardback Garment of Shadows.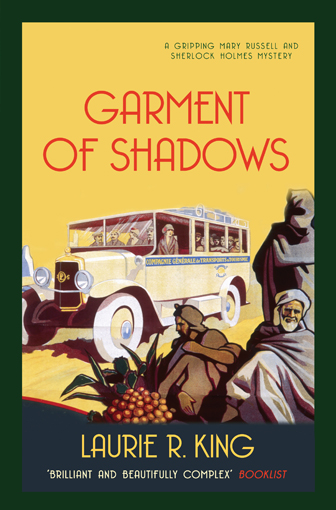 Many of you guessed "green" correctly, but the prize must go to Vicky Latham in Padiham who not only guessed the right colour but even the right shade, with her spot-on answer: "British Racing Green"!
Congratulations Vicky and thanks again to all who took the time to play with us.
Chiara Priorelli, Publicity & Online Marketing Manager