Vote for the oddest book title!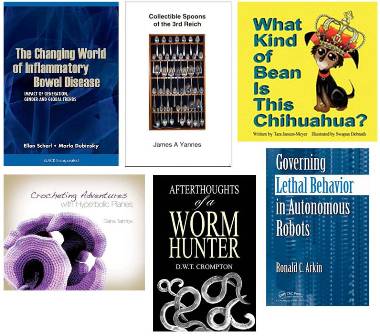 Here's to weird book titles! Time to vote for who you think should win the 2009 Diagram Prize – which awards the book with the oddest title of the year. The shortlist has been selected and the winner will be announced on the 26th March. The shortlist is as follows:

The Changing World of Inflammatory Bowel Disease, by Ellen Scherl and Maria Dubinsky's (SLACK Inc)
Collectible Spoons of the Third Reich, by James A Yannes (Trafford)
Crocheting Adventures with Hyperbolic Planes, by Daina Taimina (A K Peters)
Governing Lethal Behavior in Autonomous Robots, Ronald C Arkin (CRC Press)
What Kind of Bean is This Chihuahua?, by Tara Jansen-Meyer (Mirror)

Afterthoughts of a Worm Hunter, by David Crompton (Glenstrae Press)
The popular award, run by The Bookseller, has flagged up such delights such as last year's winner The 2009–2014 World Outlook for 60mg Containers of Fromage Frais (riveting stuff I'm sure) and my personal favourite: Greek Rural Postmen and Their Cancellation Numbers. (The mind boggles.) Read more about the shortlist on Horace Bent's Blog here.
To vote for the one you think should win this year, go to TheBookseller.com (scroll down the homepage and you'll find the Diagram Prize poll box and vote button on the left).
Chiara Priorelli, Publicity & Online Marketing Manager