Did you know that last week London hosted Internet Week, Europe?  No, me neither. But apparently, around the city, events were taking place with such fascinating names as: Protein Forum: Data Visualisation, Urban Computing and the Virtual Goods Summit.
Most interesting though was a workshop where the talents of 10 year old kids were pitched against that of big wigs in the creative industry in an attempt to capture an illustration of 'the internet'. Resulting in wonderful entries such as this by Isabella Rogers (age 12, based on Earth = Turtle Theory).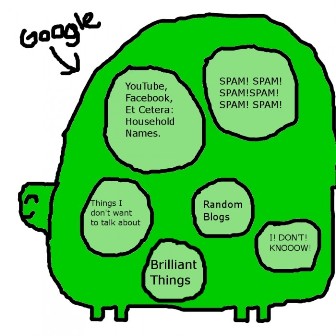 See all the results and cast your own vote here.
And for the results of other creative minds and more voting… check out the winner of our Speech Bubble competition! And vote for your favourite amongst the 9 runners up featured on our Facebook page, so someone else can win too!
Lara Crisp, Managing Editor