Well this is something you don't see everyday: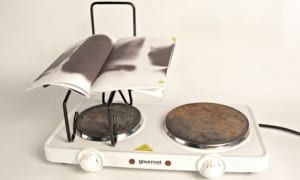 As part of London Art Book Fair, artist Camille Leproust has created a book that turns black as it is read. The book is printed on thermal paper which heats and slowly blackens so the reader has around four hours to read it before the text fades completely to black. Interesting, yes?
But that's not all. The project is part of an exhibition called Unbinding the Book where nine artists have been commissioned to investigate 'the future possibilities of the book as a printed object'. This ranges from a book which is a working radio to clothes covered with acrylic sheets, each of which is etched with the glowing text of T. S. Eliot's 'Prufrock'.   
Read The Guardian's in-depth article about this brilliant exhibition here.
Sophie, Editorial Administrator.