A Novel Way to Order an Espresso
Some of my favourite bookshops have coffee shops on site (try the London Review Bookshop (pictured below) next time your in the capital). There's nothing better than treating yourself to a browse through the shelves, before scouting out the comfiest seat in the cafe (usually a plush, velvet sofa scattered with a few biscuit crumbs from ghosts of readers past) and settling down, coffee  in hand, to get through a few chapters.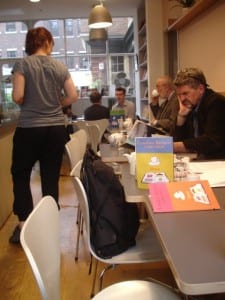 But have you heard that you can now order an espresso with your, er, espresso? That is – a nifty book machine will allow you to print books on demand- ready almost as fast as you can say extra hot skinny latte.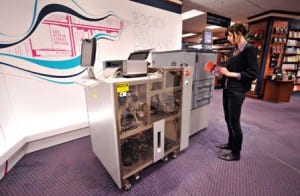 Blackwell's Charing Cross Road branch were ahead of the trend, installing their Espresso Book Machine back in 2009 and now our friends accross the pond are enjoying the same service via Barnes and Noble. This is particularly great for finding titles that have long been out of print.
I think it's a novel idea (excuse the pun) but, on the whole, there's something nice about finding what you're looking for tucked in amongst others on a shelf, that I'm not sure the espresso book can compete with.
Kathryn, Publishing Assistant