Too cool for the simple garden gnome?
I don't often read the free London papers, just when I'm stuck without a book usually, but while crammed onto the Central Line the other day, I (really) couldn't avoid reading over one girl's shoulder. Apparently the average garden gnome is going to have his work cut out for him this coming year as a US based company are trying to muscle in on his flower bed territory with some 'alternative sculptures'.
In other words, you could have a pasty-faced zombie errupting out of the ground next to your hydrangeas, or Jaws making an appearance down by the pond – check out the pics!
Personally, I am rather attached to our own garden gnome who has followed us from student digs to London house-shares (he didn't like the garden there much, preferring a spot on the bookshelf) to finally his special little spot now. Doesn't it look happy that the crocuses are out!?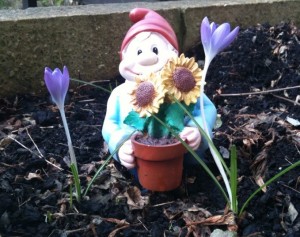 Lesley Crooks, Sales & Digital Marketing