Three cocktails in, and Sara still spots grammar mistakes…
So, last night we bade farewell to the lovely Sara Magness, taking ourselves off to the London Cocktail Club in Goodge Street (barely visible but for a small sign pointing underground somewhere between Nandos and The Newman Street Tavern – who knew?) to drown our sorrows  in martini mixes and the like.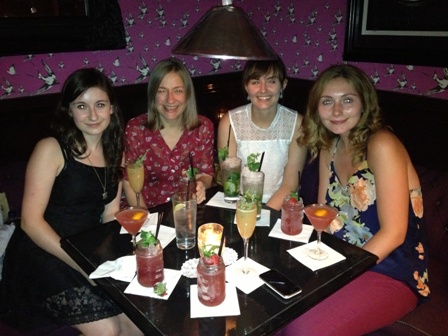 The old-school-music track belting out classics from my teenage years –  from Starship's We Built this City on Rock and Roll to Europa's It's the Final Count Down to Bon Jovi to The Boss (ah, Bruce! Cue discussion on how good he still looks at age 60-something) –  added to the nostalgic "end of another A&B chapter" tone of the evening.
Even the fabulous cocktails seemed to be aptly (albeit inadvertently) A&B themed.  I felt obliged to order the Brixton Riot (in memory of the old A&B office location); Sara and Sophie enjoyed the Granny Goodge, including a shot of Absinthe (paying tribute to one of Lesley's favourite A&B titles, Basic Eight, by Daniel Handler; and we discovered the perfect cocktail for Bryn Davis (the heroine in Rachel Caine's Revivalist series), aptly named The Corpse Reviver.
And then, ending the evening on a most perfect note – reminding us all of her eagle-eyed meticulousness in all things editorial – Sara couldn't help but spot a grammatical error on the cocktail menu…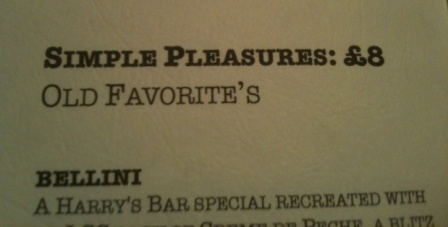 Bon Voyage and Good Luck, Sara – you will be missed!
Chiara Priorelli, Publicity & Online Marketing Manager