The Lost Pictures of Childhood
I discovered on Twitter that it was Judith Kerr's ninetieth birthday last week. Writer and illustrator of such children's classics as The Tiger Who Came to Tea and the Mog series, Kerr's words and pictures will doubtless both endure for a long time yet, given how familiar people of many generations are with her books.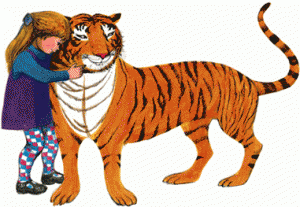 But for me, the pictures are what stick most in my mind (view some here displayed by Stylist magazine). It made me wonder whether children's illustrators are equally, or perhaps even more, important than the authors who provide the text? There are certainly some vivid images that I remember from my childhood – Quentin Blake is of course the most iconic example. But there are some images, half-hidden in the recesses of my mind, for which I'm unable to name their illustrators (hence some frustrated and fruitless Googling attempts). It seems, with the exception of a few lucky artists and those who can both write and draw – Beatrix Potter, for example – it's always the authors whose names survive the years.
Should we give more credit to those who create the beautiful images which so enchant us when we're young? And can you think of any memorable book illustrations from your own childhood?
Sara Magness, Editorial Administrator