Fly on the wall at Emily Winslow's Book Launch
On Tuesday this week, Susie and I headed to Cambridge to celebrate the launch of The Whole World and The Start of Everything by Emily Winslow at Heffers Bookshop. It was a lovely family affair with kids invited along and whisked happily away to the children's section where fellow author Helen Moss enraptured them talking about her hugely popular Adventure Island series. This left the adults free from parental duties as they gathered around with a glass of wine to hear Emily talk about her Cambridge-set psychological mysteries.
She engaged her audience with stories about her research, paying tribute to the locals who granted her access to places around the city and let her in on little secrets. Like the time she asked the caretaker of one of the public gardens if it was possible for students to hide in the garden and get locked in after dark. To which he responded that he would take her on the rounds he makes before he locks up, and show her all the hiding places he deliberately leaves unchecked… Or the time she was shown the abandoned copper telescope in the astronomy library standing above a carpet of dead wasps…a scene you'll find featured in The Start of Everything.
I'm sure many of those in the audience will now look at their city with renewed interest, or at least once they finish the books, as until then, I have no doubt, all eyes will be glued to the page…
And now for some pics from the night.
Now THIS is what I call a book display…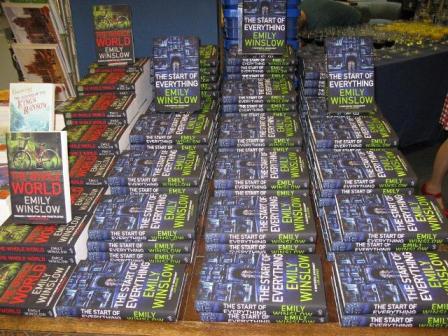 Emily Winslow entrances the audience reading from The Whole World (the kissing scene in the book that goes horribly wrong…)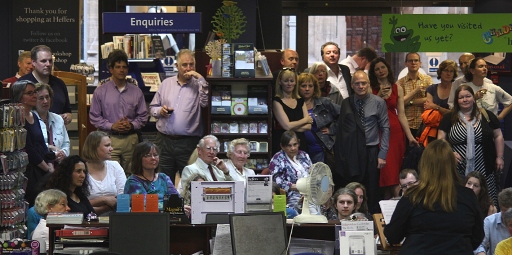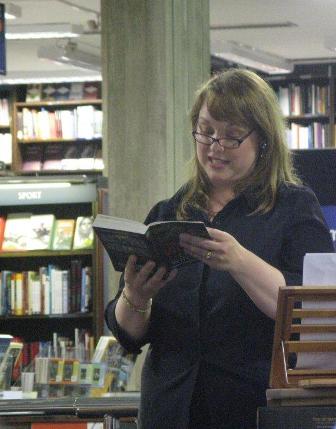 And then there was the booksigning. Note to wannabe authors: You must learn to sign books sitting down, standing up, and it's a good sign when fans buy books in threes!
Chiara Priorelli, Publicity & Online Marketing Manager