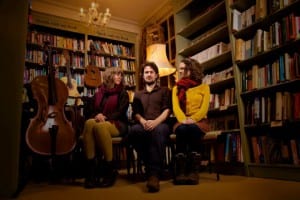 How great are these guys! Combining a love of music and books – two things no one ever minds combining – they've been performing literary-inspired songs together, for five years.  Titles including For an Ending (based on A Monster Calls by Patrick Ness) and How not to Woo a Woman (based on the Unlikely Pilgrimage of Harold Fry).
But before one of the trio, Poppy Pitt leaves the band to head to London, she and co-members want to record the great number of songs they've amassed…
The group are proposing three ways fans can help them record the albums; by pre-ordering the next album for £8, by subscribing to the next eight albums – around 80 – tracks – on digital download for £40 or by sponsoring a song. Those who sponsor a song – for sums ranging from £50 to £350 for the whole album – will be thanked in the credits and invited to the live recording session.
Visit their website for more info, and click here to watch a performance and interview!
Kathryn, Publicity and Sales Executive