The books making Oscar headlines
I used to get excited and stay up all night to watch the the Oscars – an annual ritual, a bit like my camping out all night to get tickets to Wimbledon – but that was when the a) you could actually watch Academy Awards on terrestrial TV and b) the ceremony was much more of a spectacle, with more performances, less adverts, and better hosts (although was happy to see Billy Crystal was back, holding the reins this year).  Now I am content with catching the highlights after the event and today you certainly can't hide from all the Oscar headlines and pictures from the red carpet.
And amidst all the movie glitz, a few books are enjoying some time in the spotlight too…
The Oscar for best adapted screenplay went to The Descendants, and this morning I discovered it is an extended adaption of a short story, The Minor Wars, by Kaui Hart Hemmings from her collection House of Thieves. (Will we see a sudden reprint or spike in sales?)  It follows my theory that the best film adaptations come from short stories – take Stand by Me and The Shawshank Redemption (both originally novellas by Stephen King) – as films can rarely encompass all that lies within a wonderful novel. Having said that, Oscar nominated The Help (adapted from the novel by Kathryn Stockett, and a book which really needs no further publicity having already been a worldwide bestseller) was one of the best adaptations I've seen.
I was delighted to hear that the best animated short film went to a story about a man who cares for a library of lively books: The Fantastic Flying Books of Mr. Morris Lessmore. Must suss this one out.
And lastly, pictures of Michelle Williams are crowding the award pages today, but not actually because she missed out on an Oscar for her brilliant performance as Marilyn Monroe in My Week with Marilyn, but because she was pictured at another awards ceremony (where she did win) sporting a unique Olympia-Le-Tan Catcher in the Rye clutch bag. And for anyone wondering where they can purchase said bag, you can find it here at Net-a-Porter, for a mere £995.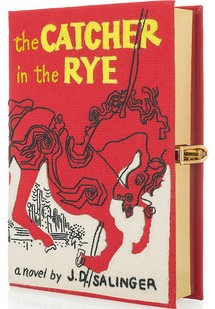 Chiara Priorelli, Publicity & Online Marketing Manager