The Blogging of War and Peace
Resolution the First, MMXI. Friends, blog-readers, gluttons for punishment; I wish to publicly declare my New Year's resolution, in the hope that fear of the shame of openly admitting to failure will prevent me from ever breaking this resolution, as all my previous ones have been.
I do therefore solemnly swear by all that I hold most holy (my Beatles music collection and my new cafetière) that I will this year, though hopefully not for the whole year, finally and fully read that classic of classics, the book I've always wanted to claim I've read but have never yet bothered to pick up; that gargantuan brick of a novel, Leo Tolstoy's War and Peace.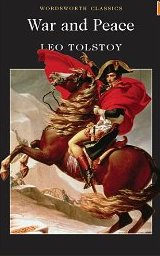 I resolve and promise to read my 994 page Wordsworth Classics edition in its entirety, from cover to cover, forsaking neither introductory nor postliminary notes, and not even the footnotes (although skipping those would shave off a good thirty pages).
And I do furthermore commit myself to regularly reporting on the A&B blog about my progress, and the progress of the novel, by way of pithy summaries of what has been going on plot-wise. A commitment which I hope, asides from keeping me soldiering on, will serve as a charitable enterprise – for perhaps, in blogging War and Peace, I may save others the effort of reading it; and perhaps, by the next New Year, there will be upwards of one, two, or maybe even a handful of people bluffing their way through party conversations in which the filler 'Have you ever read War and Peace?' comes up. That's the dream anyhow.
I therefore wish you all toodle-pip for now, humbly ask you to come back for the first actual instalment of my War and Peace blog, and beg you to hold me to account should I fail in this, my one little New Year's resolution.
Georgina Phipps, Editorial Administrator