Talk & book signing with Mary Nichols in Ely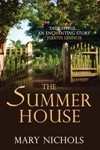 Thursday 10 September, 7.15pm (for 7.30pm start)  TOPPING & COMPANY, ELY
Join local author Mary Nichols as she celebrates the launch of her new paperback The Summer House at Topping & Company, 9 The High street, Ely. Enjoy a glass of wine as she gives a talk and signs copies of her book. Tickets £5 redeemable off the price of the book. For more information call the bookshop in 01353 645 005.