Talk and Book Signing: Rachel Caine in Nottingham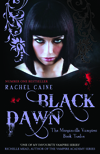 Wednesday 16 May, 7.00pm    WATERSTONES, NOTTINGHAM
Come and meet Rachel Caine, author of the international bestselling Morganville vampire series. Rachel will be signing copies of her hotly anticipated twelfth instalment, Black Dawn, at Waterstones, 1/5 Bridlesmith Gate, Nottingham NG1 2GR.  Free tickets and more information available from the bookshop, or call 0843 290 8525.