Book Signing: Rachel Caine in Birmingham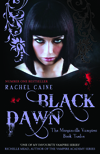 Sunday 13 May, 3.00pm-5.00pm   WATERSTONES, BIRMINGHAM
Come and meet Rachel Caine, author of the international bestselling Morganville vampire series. Rachel will be signing copies of her hotly anticipated twelfth instalment, Black Dawn, at Waterstones, 128 New Street, Birmingham B2 4DB. For more information contact the bookshop on 0843 290 8151.