Take a break from technology this weekend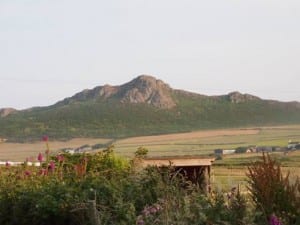 Earlier this week I spent a few lovely (and luckily sunny!) days camping in Pembrokeshire. We camped at Lleithyr Farm, a brilliant site and a truly secluded countryside spot; my only complaint might have been the occasionally noisy sheep!
Although I of course took my smartphone along with me (who can be separated from theirs these days without suffering a panic attack?), I actually managed to barely use it at all, and it was nice to have a break from technology. Instead, when not at the beach or visiting the nearby St Davids (Britain's smallest city and home of the best ice cream I've ever tasted), I escaped into the pages of a book.
David Mitchell's Cloud Atlas is now not far from finished, and I'm getting more and more intrigued by the story. Meanwhile, fellow camper (and future sister-in-law) Charlie was totally engrossed in Kate Forsyth's Bitter Greens, and wouldn't let us distract her until she'd reached the final page.
I think the pleasures of becoming engrossed in a story in a peaceful, technology-free environment have reminded me of a simple truth:  Sometimes we just need to walk away from the laptop, the smartphone, from Twitter and Facebook, and just open an actual book. My sole regret from my almost technology-free weekend was forgetting to take a photo of the tiny, charming bookshop I discovered in St Davids. But then, perhaps my lack of photo might inspire you to go and discover it for yourself!
Sara Magness, Editorial Administrator