Spring cleaning at Foyles
Spring traditionally prompts us to fling wide the windows and scour the dust and previous season from our homes' nooks and crannies. Foyles, however, is going one better this year with a brand new, shiny, cathedral-like store at 107 Charing Cross Road. Those last two adjectives are speculative I admit, but I'm confident that those chaps at Foyles will deliver, and then some.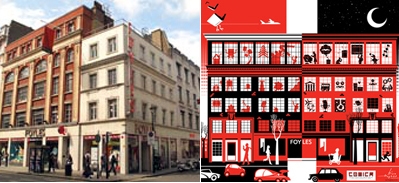 But this fresh start doesn't mean they are forgetting their heritage. Launching on Tuesday you can pop along to the current site to see a free exhibition of Foyles' history, 'Foyles – the first 111 years'. Find out which illustrious/notorious figures they have welcomed to Literary Luncheons in bygone days, and read the sometimes amusing sometimes snarky letters they have received.
Lesley Crooks, Digital & Online Marketing Manager