So it turns out a friend of a friend is an amazing poet. Last night I went to the launch of Kiran Milwood Hargrave's latest poetry collection, Splitfish. I was given the collection for my birthday earlier this month and decided to start reading it at the weekend to get a taste before the launch. What began as a leisurely morning sprawled on the couch reading, ended with me being sat bolt upright, stunned.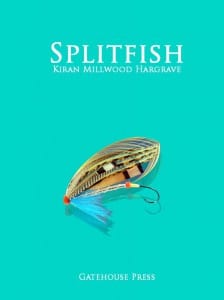 Kiran's poetry is eloquent and haunting. What's more, for such a developed, powerful voice to come from someone so young ( born in 1990!), is incredible. This is one of my favourite poems so far – that last line is so tactile you can almost taste it – and it proves that Splitfish is a collection to return to again and again.
Bed Rest
Rust from the door handle will tang your fingertips
for days after you enter, days spent with hands laid
decorative in your lap. The soft heat of your body will push
against the room's empty cold, turn towards the light arranged
around the window, light that does not press further
onto the wall's flattened green. Breath's a dry heave
in your chest, and under your tongue a taste you cannot name.
You number the fallen pennies of stars through the window,
guess the ones almost dying, the ones already done, or count
the beeps decoding your body to morse – learn to scent
the double tap of blood through your chest, and sense a loosening
of skin as the dust circulates, growing certain you've inhaled
a lungful of yourself.
Sophie Robinson, Editorial Administrator