Something for the travelling readers out there…
This summer I spent four weeks travelling through Peru and Bolivia.  Everyone said how much they admired me for going on my own, but also expressed their worry for my safety.  Yet when I got there, being alone wasn't my main cause for concern.  It was the fact that I'd finished the only book that I had brought with me across the pond.
You see, I hadn't considered that when I got to Peru it may prove difficult to get my hands on an English book.  I spoke a bit of Spanish, but there is nothing more comforting when you are in a strange place with strange people jabbering at you in a foreign language all day, than to open up a book written in your own language.  It is a little piece of home that you can take with you.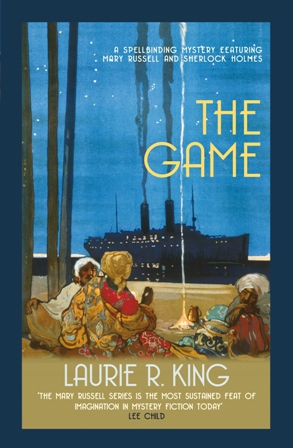 After a few book-less days in Peru, I found myself in Cusco, the Inca capital and the stop-over point for all travellers wanting to see the world-famous ruins of Machu Picchu.  And it is there that I found a little glass cabinet next to the hostel reception filled with books, and a sign stuck to the top that read: BOOK EXCHANGE.  My heart leapt! That first evening in Cusco found me searching through the limited selection, until I came across one book that caught my eye.  Funnily enough, it was a book published by Allison & Busby – The Game by Laurie R King.  I had never read anything from the Mary Russell crime series, but it immediately appealed to my sense of adventure.  It sees Russell and her husband, Sherlock Holmes, leave their cosy home in good old England and embark on a journey to the heart of India, and get caught up in a world of spies and corrupt rulers.
I happily exchanged my old book with this new one, and it kept me company throughout my journey across Peru and across the border into Bolivia.  It even came with me when I volunteered for two weeks at a wildlife sanctuary called Inti Wara Yassi in the Bolivian jungle.  Some evenings, after days spent slaving away in the sun, cleaning out cages and preparing food for the animals, it was nice just to chill out with Mary Russell. I finished it, left it there for others to enjoy, and now, two weeks later, far from the jungle and in the comfort of the A&B office, I'm looking at several copies of The Game on the office's archive shelves.
I have to take this moment to thank the person who came up with the idea of book exchanges abroad.  It is perfect for the lone traveller who has only a rucksack and therefore space for only one book and saved me from boredom during those endless bus journeys across foreign lands. And who would have thought that a book that began its life in the UK could have travelled across the world and end up in the middle of the Bolivian Jungle?
Kirstine Bowen, currently doing work experience at A&B