Scrooge's Christmas Guide
I saw this gem on a website ostensibly giving Christmas gift ideas for hapless husbands, boyfriends and brothers. Soon to be ex-husbands, ex-boyfriends and ex-siblings.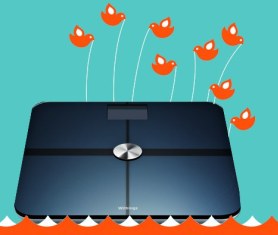 Apparently Twittering your weight is all the rage at the moment – having your weekly weigh-in broadcast worldwide is the ideal way to keep the winter wobbles at bay. And this handy gadget does it without you lifting a finger. Read more here…
Imagine how this would affect your Christmas dinner – 'Just some brussel sprouts thanks, hold on the gravy.'
After Kate Moss's inflammatory 'Nothing tastes as good as thin feels' it seems someone's determined to ruin the festive season for us. Although to be fair, I think most people wouldn't take a jot of notice at someone else's weight updates. Although there's always those nutters who would and that's the problem.
Somebody pass me a mince pie. And bring back the reindeer jumper please.
Any other contenders for worst Christmas present idea?
Lara Crisp, Managing Editor