Rediscovering a neglected literary art form…
Once the literature of the masses (back when the novel was considered a lightweight, 'feminine' art form) but now often ignored, I've found myself unintentionally rediscovering poetry recently. And as I'm living and breathing novels at A&B, it's interesting to look at something a bit different…
Like most of us, I can't say I've sat down and read poetry too often in my life, aside from at school and university. Unlike reading novels or even seeing a play, there's something about reading poetry that, thanks to our changing literary tastes, seems ridiculously pretentious. However last night, a newly-published poem by the Australian broadcaster and poet Clive James appeared in my Twitter timeline thanks to, of all people, a music journalist at the Guardian. The poem, 'Leçons de Ténèbres', can be seen below, thanks to @CormacKinsella.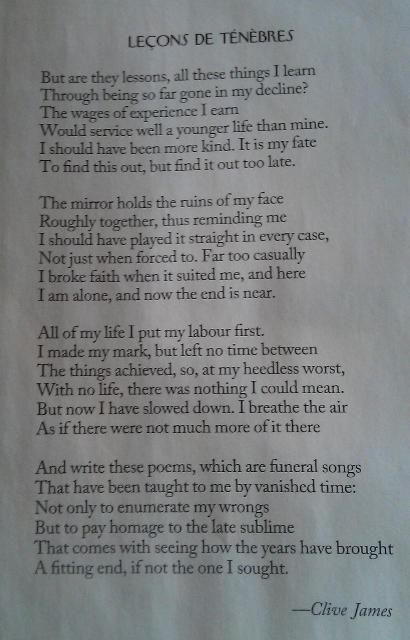 'Leçons de Ténèbres' really moved me as I read the honest yet all-too-tragic reflections of a man as he approaches the end of his life, and the fact it's surely autobiographical (Clive James was diagnosed with leukaemia, kidney failure and emphysema in 2010 and admits that he is now "near the end") lends it an added sense of sadness. It reminded me of one of the few poetry anthologies I've read cover-to-cover for pleasure rather than a lecture, which is Ted Hughes' Birthday Letters. Published in 1998 to much acclaim, the collection is well-known for being Hughes' final work before his death, evoking themes extremely similar to those in 'Leçons de Ténèbres'; a man looking back on his life and apparently searching for redemption in his final days. Of course the sixth-form me who first picked Birthday Letters up was more than a bit intrigued about the 'tabloid' aspect of the collection, in which Hughes finally breaks his silence about his infamous marriage to Sylvia Plath, but its poems have definitely stayed with me.
Thanks to one of my friends, I also recently discovered Hollie McNish, a Londoner in her twenties whose spoken word poems on everything from racism to the sexualisation of Disney princesses are often hilarious and hard-hitting at the same time, and I'd definitely urge you to check them out on YouTube. You can start with 'Mathematics' and 'Merida from Brave'…
We can all remember the works of great poets studied at school, and perhaps still quote a few lines, but poetry is such an overlooked form these days that it was nice to be reminded, in two very different ways, of its power for a bit.
Sarah Fortune, currently doing work experience at A&B