Rediscover the magic of the fairy tale . . .
Did you know that this week is National Bookstart Week? This means that thousands of free events will be taking place for preschool children and their families, in the hopes of getting some young 'uns hooked on books! And to mark the start of this celebration, which this year has a fairy-tale theme, five of the biggest children's book illustrators have produced drawings of their favourite traditional characters – view them here on The Guardian website.
It follows on very nicely from my blog last week, in which I emphasised the importance of the children's illustrator – and voila, we have five beautiful pictures to prove my point! My favourite is this one of Beauty and the Beast, drawn by Chris Riddell – I love the way the two characters, when you look closely, actually look very similar…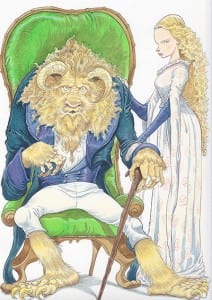 Will you be attending any Bookstart events with your little one? If you don't have a preschooler in tow, perhaps pick up a copy of the enchanting Bitter Greens or The Wild Girl to rediscover some fairy-tale magic!
Sara Magness, Editorial Administrator