Rebecca Tope launch and book signing in Tavistock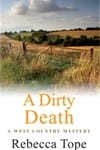 Friday 15 June, 11.00am        BOOK STOP, TAVISTOCK
Rebecca Tope, author of the bestselling Cotswold mystery series will be celebrating the relaunch of her West Country mysteries (set in Devon), including four new paperbacks Dark Undertakings, A Death to Record, Death of a Friend and A Dirty Death at Book Stop, 3 Market Street, Town Centre, Tavistock PL19 0DA. For more information call the bookshop on 01822 617244. Come and meet the author, enjoy some light refreshments and get your books signed.