Reading ONE DAY, by David Nicholls
I was going to merely comment on One Day, by David Nicholls in our Currently we are reading column, but realise I have too much to say about it…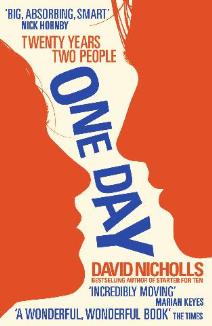 Proof that you should never judge a book by its cover. This one is a garish orange, close-up silhouette of a couple presumably about to kiss. Blegh. I'm unlikely to have picked it up in a bookshop not knowing what it was about. That said, it's certainly very colourful and distinctive – you can't mistake it for anything else out there. And in fact I did pick it up off a bookshelf because I recognised it from a review/publicity etc. So there you go, cover design worked after all. And then once I had picked it up I noticed the lovely cover board it's printed on, all textured and posh looking.
Oh, the book, yes back to the book! Unassumingly brilliant! It starts off with two university graduates, Emma and Dexter who have inadvertently spent the night of their graduation together – well, perhaps it's inadvertent for him; she's had her eye on him for some time. The date is 15th July 1988. From then on each chapter jumps forward a year, but always to the same day and catches up on the two of them, who stay in touch by lesser or greater degrees.
I can't express how wonderful the characterisation is. Dexter is a real player, a mummy's boy. He has good looks, wealth and charm on his side – and the confidence these bring. Emma on the other hand yearns to make a difference in the world. She's passionate and politically aware but it doesn't seem to be getting her anywhere and you do feel that she's been dealt an unfair hand in life. The characters are so incredibly well-drawn, they feel like people I know – I feel let down when they mess up and put out that they aren't going in the direction I want them to.
I'm also finding it a brilliant record of the last 30 years (oh, the psychedelic rave scene!). It's the perfect un-classic love story and I could not put it down.
In fact, I'm not going to comment anymore because I do not want to ruin your reading of this book. Because you absolutely have to read it. You just must. It's wonderful. You will laugh and cry and love it. And now I have to go read everything else he's written – although I see the covers are all equally bad. Never judge a book… etc.
Lara Crisp, Managing Editor