Reading about and remembering the Great War
Today we celebrate Remembrance Day: the anniversary of the official end to World War One,  and this year I seem to have been thinking about it more.
One reason is that my other half is currently reading Somme Mud, a first-hand account of Australian infantryman Private Lynch's experience in the front-line trenches of the Great War. He is finding it fascinating and now and then feels compelled to read bits from the book to me, and I am given another insight into the shocking and horrific reality of what it was like to have endured that life – or 'existence' as Lynch puts it.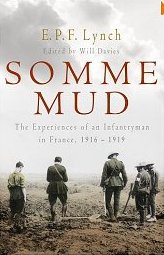 The other reason is that earlier this week, I spent the day with author Jacqueline Winspear. Her grandfather fought in the Somme and was left emotionally and physically scarred – shellshocked and with terrible leg wounds. Growing up as a child she witnessed her grandfather's suffering and this instilled in her, what has become a life-long fascination with the Great War and its aftermath. And indeed part of what inspired her to write her bestselling Maisie Dobbs mystery series – the latest (The Mapping of Love and Death) which involves the suspicious death of a cartographer in the trenches of WWI France.
As Jacqueline and I strolled around Fitzroy Square the location of Maisie Dobbs' fictional office (a snap from the day above!), we spoke a little of her wounded grandfather, how her other grandfather (who worked at the Daily Express) hadn't served in the war and how that had been frowned upon at the time. And of course, we spoke about her new blog Maisie Dobbs: Inspiration from an Extraordinary Generation, which I'm avidly following – and I look forward to more posts about the remarkable women who came of age at such tumultuous time.
So this year, I must admit to feeling that much more humbled by Remembrance Day, having given much more thought to those who fought on the front line and those that faced their own challenges at home.
Chiara Priorelli, Publicity & Online Marketing Manager