Rachel Caine visits Renaissance Learning
Yesterday I had the chance to go along to a special event with bestselling author Rachel Caine, hosted by Renaissance Learning, a company who works with schools to encourage reading. They were also the organisers of the recent nationwide What Kids Are Reading poll which saw Glass Houses (the first book in Rachel's Morganville Vampire series) voted as the most popular book amongst school children in the UK.  And yesterday they presented Rachel with a framed certificate to mark this fantastic success. (Here she is with the Renaissance Learning team… and that's me on the right, proof that I was indeed there.)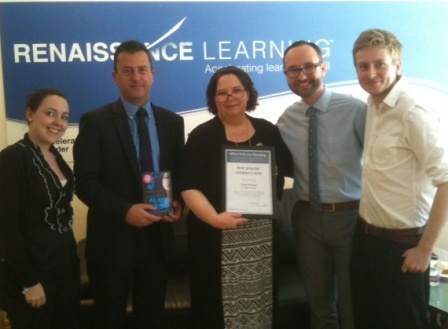 There were several schools at the event, some that had come from nearby, some from far away (well, Basingstoke) and a great time was had by all.  Rachel gave a talk, answered questions, gave a reading, and signed books for everyone afterwards.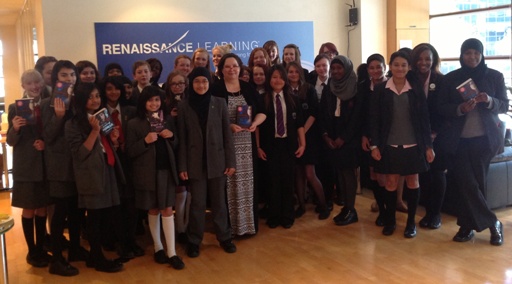 It was brilliant to see many of the children literally jumping up and down with excitement when meeting her, and she spent as long with each child as they wanted, talking about what she was going to write next, what inspired her characters, and giving out tips on writing to some of the budding authors there.  She spoke eloquently and passionately about her work, the struggles she'd had to overcome, and why orange is obviously a much better colour than yellow…
The lucky attendees were also the first to receive some special Morganville Resident I.D. cards, possession of which grants entry to a competition  to win a signed special edition harback of the last book in the series, Daylighters (out November 2013).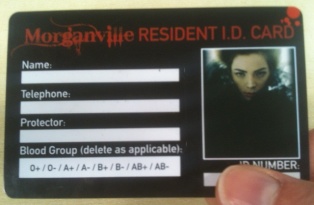 The competition launches today and the I.D. cards will be available at all of the events on the Fall of Night Book Tour! If you can't make one of the events, click here for more details on how to get your hands on a Morganville Resident I.D. card.
I'm a little sad that I don't get to go to more of the upcoming events, because it really was a cracking day.  Are you planning to go to an event with Rachel Caine? And if so, what questions are you saving up to ask her?
George Alabaster, currently doing work experience at A&B