Quote great literature while you cook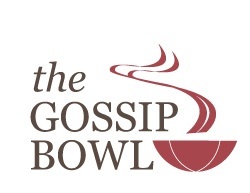 As A&B's resident foodie, it's perhaps not surprising that I've discovered a lovely new blog The Gossip Bowl which celebrates vintage recipes (with a dose of the literary…) As they proudly highlight themselves on their site, Virginia Woolf wrote: 'One cannot think well, love well, sleep well if one has not dined well.' Too true.
I love the simplicity of the weekly blog  (some of the bigger cookery sites are so overwhelming) and each recipe comes with a little added titbit of information about it (did you know that when aubergines first arrived in Europe, they were know as 'mad apples'?). But the best bit? Each recipe is prefaced by a pertinent quote, most often from a book, placing it in a delightful literary context.
My favourite so far (accompanying a recipe for Sage and Chestnut Sausage Rolls):
'There were great round, pot-bellied baskets of chestnuts, shaped like the waistcoats of jolly old gentlemen, lolling at the doors, and tumbling out into the street in their apoplectic opulence.'– Charles Dickens, A Christmas Carol, 1843
I'll never look at a chestnut in quite the same way again.
Chiara Priorelli, Publicity & Online Marketing Manager