Onassis, a Robert Lindsay production…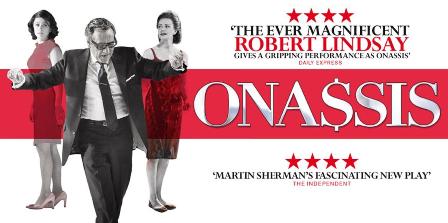 This week I went to the Novello Theatre to see the play Onassis, by Martin Sherman (based on the novel Nemisis, by Peter Evans). It wasn't what I had expected; less of a story with an actual plot than a sequence of vignettes – moments in Onassis' life in which the audience gets a glimpse of the kind of man he was.
And the play's portrayal of the man is that of a boorish egomaniac – agressive, arrogant, sexual, powerful, immoral, passionate to the extreme – a larger-than-life character, so caught up in his own self that he borders on neurotic.
I know little about the real Onassis to be able to comment on how accurate or inaccurate this portrayal may be, and for anyone hoping to get a deep or meaningful insight into the man and his life, will be bitterly disappointed. Indeed, there wasn't much 'meat' to the play itself, which touched on a lot (his passionate affair with Maria Callas, his marriage to Jackie Kennedy, his money, his shadowy business dealings, his dislike for Bobby Kennedy) but explored little. Instead there probably was too much focus on his Greek heritage, perhaps in an attempt to give the play some weight – Onassis as an anti-hero in his own Greek tragedy… But, having said all that, Robert Lindsay's performance as Onassis overshadowed any of the play's failings and I left feeling utterly satisfied by the evening's entertainment.
I have to admit that I did not recognise Robert Lindsay's name on the billboard and it was only when he stepped out on stage that I thought, "hang on, that's the actor from TV sitcom My Family!". And seeing as I'd never seen him in any other than that comedy role, I was pleasantly surprised, and indeed truly impressed by his talent.
Being half-italian, I get particularly annoyed by actors' tendency to over-act and over-accent their lines when playing mediterranean men or women, and with such an overblown character-portrayal of Onassis, Lindsay's performance could have easily slipped into something farcical. But instead he made it work. From his testosterone-fueled monologues, to his comic timing, down to the foreign lilt of his accent (that didn't jar), he was brilliant. I was utterly captivated and could have happily sat through a third act for no other reason than to watch Lindsay in this role as a despical yet magnetic character.
Chiara Priorelli, Publicity & Online Marketing Manager