Proof that there's always a silver lining…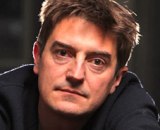 Nick Barley has now been announced as the new Director of the Edinburgh International Book Festival, with immediate effect. There's a nice interview with him in The Times today which tells you a bit about his background and his vision for the future of the festival.
Nick's future is bright, yet it's interesting to read that it was looking far less so about two months ago when he lost his job as executive director at Glasgow's Lighthouse Design Centre (after the business went into liquidation). At the time, I'm sure he must have been devastated to see the enterprise fold and yet now it's opened up a new door for him – offering arguably a more creative and more prestigious chapter in his career.
It's a nice reminder that losing your job doesn't have to spell disaster, but could lead to an exciting new change or a better role. It's a cliché  I know…but there's truth to it. I have a few friends who have been made redundant recently and I think I'll forward Nick's story to them.  If you know anyone who needs that reminder, forward it on too.
Chiara Priorelli, Publicity Manager