My Not-Quite-Resolution for 2013
It's the time of year when everyone's talking about New Year's Resolutions – January has only just begun, and the determination to keep fit / try a new hobby / not stuff your face with chocolate is still fresh. Personally, I haven't really set myself any specific resolutions this year, knowing that trying to stick to any strict regime will probably make it more likely that I'll simply give up and take comfort in the sofa and a packet of biscuits. But that's not to say I haven't got some vague ideas about how to make this year better than the last – and one of my not-quite-resolutions, which I think I also adopted last year, is to see a bit more of the wonderful city of London.
I do try to appreciate everything the city has to offer, but there are a few things I didn't get round to experiencing last year. One of them is The Barbican's Rain Room, open until March, a room of pouring rain in which you miraculously don't get wet. And there's still the Hollywood Costume exhibition at the V&A, which I've been dying to go to – hopefully I'll manage it soon, as it closes towards the end of January.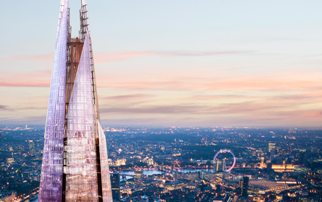 But even if I don't manage to do all the things I planned to last year, there are also some great new things happening in London for 2013. Time Out has published a great list of this year's top 10 museum exhibitions – my number one to visit is Ice Age Art: Arrival of the Modern Mind, which exhibits art made by humans up to 40,000 years ago. Or perhaps you might prefer climbing the tallest building in Western Europe – from February 1st, you can enjoy a view from The Shard (or if you're lazy, I've discovered a lovely 360-degree view from the building you can enjoy online). And of course, I'll also be taking Lesley's tips on this year's theatre, which is one side of London I haven't explored much.
So wherever you live (and especially if it's London), perhaps it's time to look around and think about how the place could change you this year. What are you looking forward to in 2013?
Sara Magness, Editorial Administrator