Brighten up your Monday with a 99p sale…
It's Monday. And the first full week of work after the Christmas holidays. Bound to be some Monday blues lurking about. Which inevitably means…time to hit the sales for some retail therapy!
But no, I hear you say, the post-Christmas bank account can not endure more frivolous spending!
Understood. But surely you can spare 99p?
Yes, I hear you retort, but that wouldn't even buy me a packet of Hobnobs.
True, but it will buy you great book in the Kindle Sale!
That's not possible! I hear you cry (I can do this all day, people.)
Oh yes it is. But hurry, today is the last day of the sale, so get downloading fast. And dare I say, we all might relate to at least some of the 8 Allison & Busby titles on offer…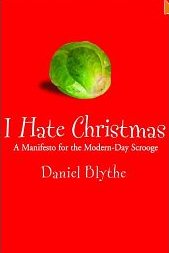 I Hate Christmas: A Manifesto for the Modern-Day Scrooge, by Daniel Blythe
(Because everyone's talking diets and there's still 2 kilos of Stilton to finish off in the fridge… )
The Mischief of the Mistletoe, by Lauren Willig
(Need to blame something for your antics at the recent office Christmas party?)
Devoured, by D.E. Meredith
(Apparently everything, according the bathroom scales…)
An Incomplete Revenge, by Jacqueline Winspear
(Having to wait a whole year before getting back at "X" family member for giving you a shoddy gift. Christmas 2013, they'll get tweezers.)
A Bespoke Murder, by Edward Marston
(Alternatively fantasising about removing "X" family member from the family tree altogether – just kidding of course, we're just cranky)
Dr Dale's Zombie Dictionary: The A-Z Guide to Staying Alive, by Dr Dale
(The early morning wake-up calls are a bit of a shock to the system after the holiday lie-ins – everyone looking a bit like the undead. But you can survive the return to work – with or without a Zombie attack.)