My Favourite Books? Fallen, by Tim Lebbon…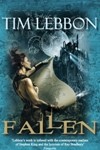 Before I head off for the weekend (and into the rain which has just started pouring down outside my office window) I must flag up the fact that Tim Lebbon's newly released paperback Fallen (the latest in his dark fantasy series set in Noreela) has just now got the most wonderful review from blogger Liz at My Favourite Books. And I quote: "Fallen is awesome, brilliant, amazing, a must-read… a treat in fantasy writing… A thoroughly enjoyable romp by a well established author at the peak of his game" Read the full post here!
And I was even more delighted to get an email from her directly where she raved about him even more. If you'll allow me to quote again:
"I've read The Everlasting which freaked me out … but, Fallen is just simply amazing – the characters, the world building, the plot, pacing and well, everything.  It is seriously a "how to" book to read for aspiring authors – it boggles the mind.  He genuinely managed to take the subject of a journey (always dangerous to do as it can become so tedious) and stir things up, and make it interesting. I am smitten.  Witness me being a brand new adoring fan, slightly obsessed by this magical world he's created.'
You think I'd paid her to say this. But I didn't, I swear. Tim's that good. So no, no bribes involved, Liz has got her reputation to look after – I mean she was quoted on the back cover of today's issue of The Bookseller no less! (RE: The Kingdom of the Deep, by Frank Hinks, if anyone's curious)
Anyway, had to share as it's a lovely way to end the week knowing for a fact that as of today, there is officially atleast one more person who has fallen in love with one of our books.
Chiara Priorelli, Publicity Manager