My favourite authors – A guest blog post by Jacqueline Winspear
To celebrate the launch of The White Lady in paperback last month, we asked Jacqueline Winspear who her favourite authors are.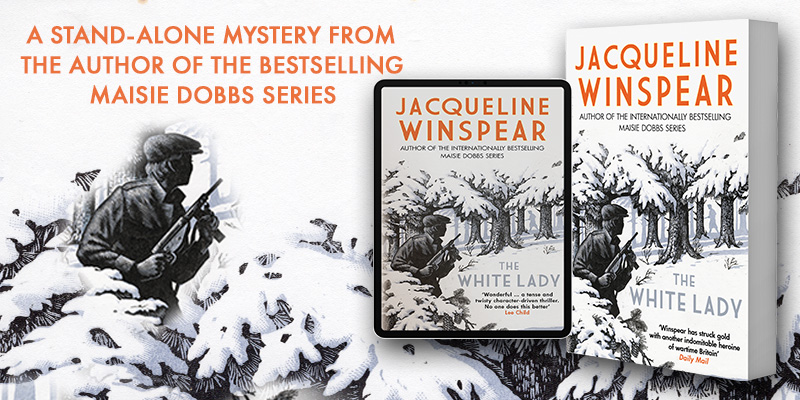 It's an interesting question – which authors have inspired you?  I have been an avid reader since early childhood, though I know every writer says pretty much the same thing . However, I have not drawn inspiration for my work from other novelists, beyond having an admiration for their writing – instead I agree with the sentiment expressed by the author Gayl Jones, who said in an interview, "The best of my writing comes from having heard rather than having read."  I would go a step further, adding that I am inspired not only by what I have heard, but what I have seen.  I am inspired by observations, by those events, some very small, that have drawn my attention and caused me to think deeply about something. 
Before I launch into a recounting of favourite books and authors, I should warn that it could easily result in the never-ending list – so consider this a smattering, with choices from my childhood and teens as well as adulthood.
Dodie Smith – is there a dog-loving child who could not love 101 Dalmatians. I can't remember how many times I read this book from first picking it up at age 8. However, in later years I was drawn to Smith's memoir, and indeed a quote from her play, Dear Octopus to describe my very big extended family: "The family, that dear octopus whose tentacles we never quite escape, nor in our innermost hearts never quite wish to."
Ruby Ferguson – the horse-mad girl in me loved every single one of her books about Jill and her ponies.
Jane Trahey – I read Life With Mother Superior when I was about 11, and I thought it was hilarious, so I read it again and again during my middle adolescence!
Jane Austen – one of my most beloved authors since age 12, though I know I didn't really digest the very best of her writing until I was in my twenties.
Emily Bronte – A copy of Wuthering Heights was in the Christmas display at our local corner shop when I was nine. My mother wondered if I was too young to appreciate it, but I saved up for the book and cherished it for years, reading it time and again.
Scott Fitzgerald – I first read F. Scott Fitzgerald when I was sixteen, and for a girl raised on the English classics, it was a massive eyeopener, just in terms of his use of language and the pace of the novel. I then read everything he had ever written! My final dissertation at college was "The Theory of Emotional Bankruptcy As Reflected in Tender is the Night by F. Scott Fitzgerald, and A Farewell To Arms by Ernest Hemingway. Reading Scott Fitzgerald led me to a generation of American authors – I was enthralled.
Hemingway – I think I've read almost every book by Mr. H.
John Dos Passos – his USA trilogy is a stunning literary work.
Ruth Rendell – I began reading the author when I was in my early twenties.
Josephine Tey – I read The Franchise Affair and loved it when I was in my mid-teens.
Daphne Du Maurier – I read one book after another, again in my early twenties
Susan Howatch – it was her later books, chiefly the Starbridge Series that captivated me. She is a genius, given her ability to take a potentially dry subject such as the Church of England and render it completely absorbing with character studies as deep as they are broad. I admire her work because she combined intellectual heft and solid academic inquiry with a razor-sharp wit and turned those elements into highly commercial literary fiction. Now that is a writer!
Lewis Grassick Gibbon – I loved the trilogy, A Scots Quair – the wonderful the use of language and dialect in storytelling. Just stunning.
Rosamund Pilcher – another author from my blockbuster days. I loved her characterizations.
J RR Tolkein – I began to read his work when II was in my early twenties. A bit late, but I'm glad I had not turned to it before.
Herman Hesse – Having discovered Hesse's work, I read one book after the other, again in my twenties. Absolutely captivating – I must re-read his novels again soon.
Chaim Potok – I was spending a lot of time in New York in my early to late twenties, and came across his novels. I found them incredibly moving and compassionate, delving into characters compromised by faith. My Name Is Asher Lev was a favourite.
Leon Uris – again, from my blockbuster years! I just read them one after the other!
Nikos Kazantzakis – I was about ninetee when I was introduced me to his work, and I fell in love with it. He will always be known for Zorba The Greek, but I loved Freedom and Death. Again, time to re-read.
Monica Dickens – I've enjoyed her work far more than I ever enjoyed her great-grandfather's novels. Sorry, was never a fan of Charles.
During the past twenty or so years, my reading has been all over the place. I love the series in the Times, highlighting authors of the past we might have missed. I've followed those recommendations a number of times now, and it has made for wonderful reading.
However, here are just a few of the more contemporary authors I follow:
Zadie Smith – I'm reading The Fraud at the moment. I've admired her work since White Teeth.
Louise Penney – I have a crush on her character, Armand Gamache.
William Kent Krueger – I first read This Tender Land and was hooked.
Elinor Lipman – I love her books, she lightens my day with her wit and clever storytelling.
Susan Isaacs – Ditto!
Jonathan Kellerman – another crush, this time it's his character Alex Delaware
Joanna Trollope – wonderful characterization and insight to the supposedly "ordinary" human condition.
As I said – I'm all over the place in my reading!