More reflections on LBF2012
London is a great city. It's even greater when there aren't hailstones bouncing off your head and you aren't being eviscerated by pointy elbows on the tube, but that's beside the point. In a similar way, the London Book Fair is a great gathering of bookish minds made superlative when you remember to grab a sandwich at 10 a.m. to beat the godawful queues.
After all, we get the chance to put faces to names and email addresses (hello to Fiona Lafferty at The Good Book Guide and David @noalibisbooks) as well as catch up with old friends (one among many being Richard Reynolds, at Heffers in Cambridge). We gossip about and gawp at what the rest of publishing has up its sleeve. (Speaking of which, I thought I spotted a group of Rowling devotees prostrate in worship in front of the massive portrait of JK on the Little, Brown / Hachette stand…but perhaps I was mistaken.) We excitedly discuss authors we hope to welcome to A&B soon and pat ourselves on the back over rights deals and successes. And most wonderfully, publishers gather together and try to share some pearls of wisdom through the extensive seminar programme. There, I've managed to work up my enthusiasm again, bring on LBF2013!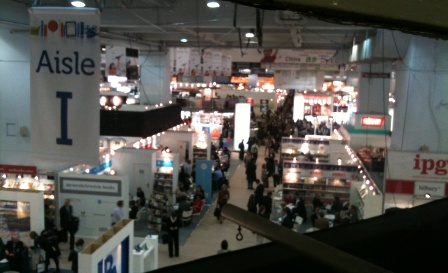 Lesley-Anne Crooks, Sales & Digital Manager