Martin Edwards at the Harrogate International Crime Festival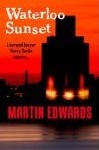 Saturday 23rd July, 2.00 – 3.00pm    OLD SWAN HOTEL, HARROGATE
Martin Edwards, a practising solicitor and author of Waterloo Sunset, featuring Liverpool lawyer Harry Devlin, as well as the hugely popular Lake District mysteries, will be speaking at the Theakstons Old Peculier Crime Writing Festival in Harrogate (21st – 24th July) to be held at the Old Swan Hotel, Swan Road
Harrogate, North Yorkshire HG1 2SR. He will on a panel entitled Legal Eagles and will be joined by authors Helen Black, Frances Fyfield, MR Hall and Peter McCormick as Chair. For more information about the festival and to book tickets visit the website or contact the Box Office on 01423 502 116.