Martin Edwards at Southport Flower Show Book Festival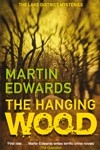 THURSDAY 18th AUGUST 3.00pm – 5.00pm    PRITCHARD'S THEATRE, SOUTHPORT FLOWER SHOW BOOK FESTIVAL
Crime writer Martin Edwards, author of the acclaimed Lake District mysteries, will be signing copies of his books, including his latest release The Hanging Wood, from 3.00-4.00pm. He will then be giving a talk with Kate Ellis from 4.00-5.00pm. For more information on the festival click here.