At the moment I'm reading Kazuo Ishiguro's Never Let Me Go, a novel which made it into the top ten bestsellers list and has since been made into a major film starring the likes of Carey Mulligan, Andrew Garfield and Keira Knightley. The book is unusual in its combination of idyllic English countryside with a bleak dystopian future – it has been termed by many as a new sort of 'British science fiction'.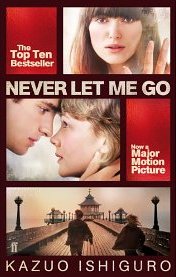 The problem is, I saw the film first. As a bookworm, I normally insist on devouring the novel beforehand, postponing going to see the film until I have read its original. Back in February, however, I decided to break my rule and go and see the film anyway. I loved it. I don't think I have ever been trying so hard not to get teary in a cinema! The film was beautifully shot and brilliantly acted, managing to capture a heartbreaking bleakness. Okay, it wasn't the happiest of films, but it was definitely one of my favourites for 2011.
Now I'm reading the novel, and I have to say, albeit reluctantly – I'm a bit disappointed. It's just not having the same effect on me; Ishiguro's writing style is extremely unemotional, almost bland. The film emanates the same atmosphere of restrained Englishness, but somehow its visual beauty makes a difference. This is one novel which I feel actually works better on screen – although I must add that I haven't quite finished it yet. Maybe in the end it will surprise me!
As a book lover, I can't think of many other films I prefer over the written versions. Breakfast at Tiffany's, Wonder Boys (maybe just because Robert Downey Jr's in it)… anyone else?
Sara Magness, Editorial Administrator