Marking the 100th anniversary of the Titanic tragedy
This year marks the 100th anniversary of the sinking of the Titanic, and many of you may have watched the commemorations this past Sunday morning (the ship hit the iceberg at 23.50 on 14 April 1912).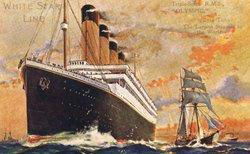 There are plenty of things marking the centenary, including the launch of The RMS Titanic Centenary £5 coin, the current showing of the film Titanic in 3D, and the Titanica Exhibition in Belfast. I remember visiting a small but beautifully presented exhibition of artifacts from the Titanic, in Boston many years ago, and the impact  of that exhibition has stayed with me ever since. As I looked at such personal artifacts (a letter, someone's reading glasses, shoes…) my perspective changed. Rather than thinking about the sinking of the Titanic as this rather grand and collective tragedy, I was seeing it in terms of each individual on that fateful ship. So much more tangible and in that way much more poignant. I have not been to this current Titanica exhibition, but am sure it will be similarly moving. Pictured above is one of the items on display – a postcard sent by one of the passengers,  Mr Robert Phillips, who was travelling in Second Class with his daughter Alice. She survived but, sadly, he did not.
On our part, we can commemorate the anniversary with a mention about one of our upcoming books, Yew Tree Gardens, by Anna Jacobs (out this July 2012) which is set at the time of the sinking of the Titanic and deals with the fallout from the tragedy.
Chiara Priorelli, Publicity & Online Marketing Manager