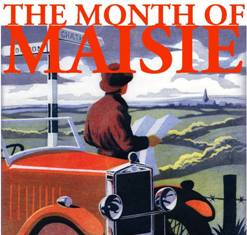 This March has been named Maisie Month, in honour of Maisie Dobbs, the character in Jacqueline Winspear's acclaimed mystery series set in and around London in the 1930s.  Not only can you celebrate the release of two new books in the series, The Mapping of Love and Death (paperback) and A Lesson in Secrets (hardback), but here's more to add to your March To Do lists…
Follow the Maisie Month Blog Tour and enjoy a string of reviews and discussion about the Maisie Dobbs novels, starting this week with a recap of the previous books in the series. Next week (March 12th – 18th) will be dedicated to The Mapping of Love and Death, the following week (March 19th – 25th) to A Lesson in Secrets, and finally, the last week (March 26th – 30th) will give you a preview of her next title Elegy for Eddie (out in the US later this month but which all you UK readers can  look forward to this autumn). For all the information about the Maisie Month Blog Tour click here.
Join in the discussion about Maisie on Twitter by following the #Maisie hashtag. Various authors will be leading the discussion on various days (see List of Twitter Chats here) but make sure you don't miss a chance to chat with author Jacqueline Winspear who'll be the one tweeting on 30th March.
Get your book club involved by selecting The Mapping of Love and Death as your March Book Club Choice – just like we have! And you can send in your questions to the author here (the Q&A will be posted next month) and any reviews here.
Grab the special offer on the latest releases! If you buy The Mapping of Love and Death AND A Lesson in Secrets at the same time (and submit promocode JWX2 in your shopping basket) you'll get the hardback at half price!
Look out for our giveaways! Keep checking our website or follow us on Facebook to be sure not to miss out on some quick competitions we'll be running this month.
And of course…. if you're not hooked on the series already, well, get reading!
Chiara Priorelli, Publicity & Online Marketing Manager