Marathons and other challenges
The London Book Fair is now behind us. With three full days of back-to-back meetings, the frantic grabbing at cups of coffee, the wading through the crowds and the racing to seminars, the exhaustion by the end of the day… it is, effectively, the publishing equivalent of a marathon. Except the women wear heels and (at least to my knowledge) none of the men were sporting vaseline on their nipples. (May I quickly clarify for non-runners out there, that this is the universally used method to avoid chafing whilst running, and no reference to Accent Press' very popular Xcite books.)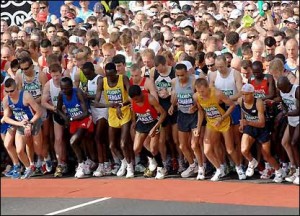 However, before someone throws their copy of Runner's World at me, I of course would like to pay tribute to the true marathon endurers who will be competing in the London Marathon this Sunday. Thousands will flock to the streets, either running themselves or cheering the brave on, and it is always a wonderful sight to see people coming together for events like this. Regardless of whether the runner's goal is personal or involves raising money for a charity, the spirit of taking on a challenge is the same, the support unanimous, and inevitably there's a palpable sense of people uniting to reflect, respect, encourage and be empowered by all the different challenges every person faces in their lives.
I have never attempted a marathon myself, although am making a start this year by competing in the Blenheim Triathlon (the sprint category) in June. I was feeling rather proud of this upcoming feat, until I picked up the latest issue of Sport Magazine this morning and read about Belgian runner Stefaan Engels who ran a marathon every day for the whole of 2010 (the mind reels…), and then soon after (me, not Stefaan) got word from author Tim Lebbon announcing he'll be taking on the Three Peak Challenge (climbing the three tallest peaks in Scotland, England, and Wales – Ben Nevis, Scafell Pike, and Snowdon – within 24 hours) in aid of St David's Foundation.
Suddenly my upcoming feat pales in comparison…
Any A&B fans running the London marathon or taking on other challenges this year?
Chiara Priorelli, Publicity & Online Marketing Manager